On the Settings page, you can manage information that is relevant to your NextAgency account and access the most important functionalities of NextAgency with just a couple of clicks.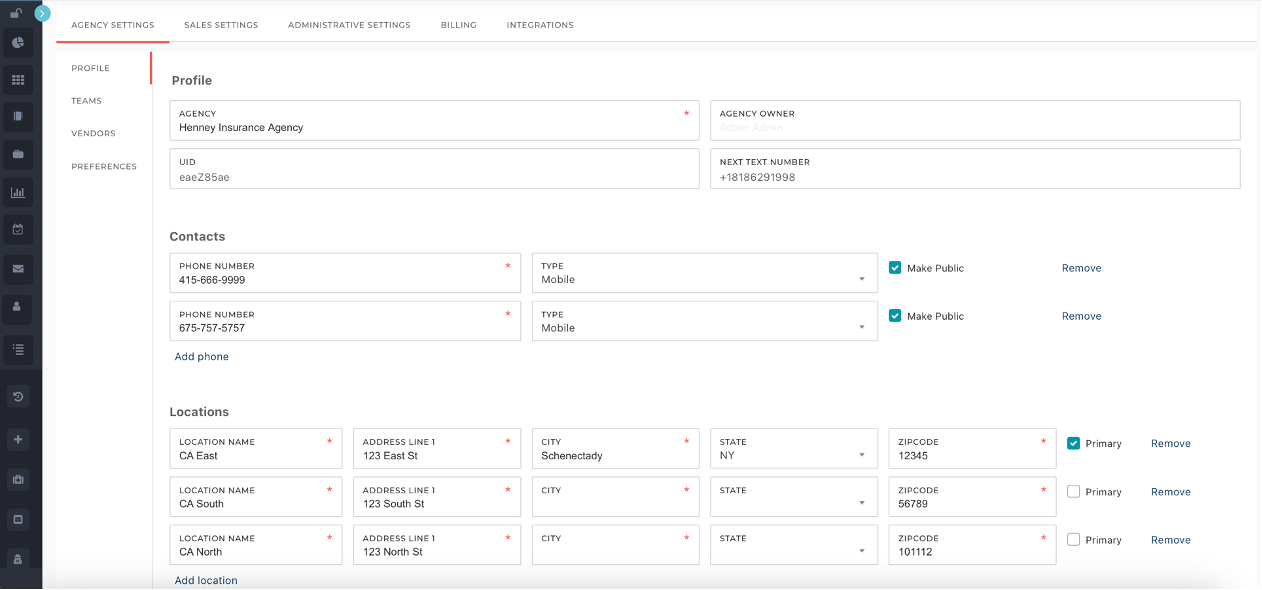 There are two ways to access the page:
In the navigation bar, click Fast Access, and then choose Settings.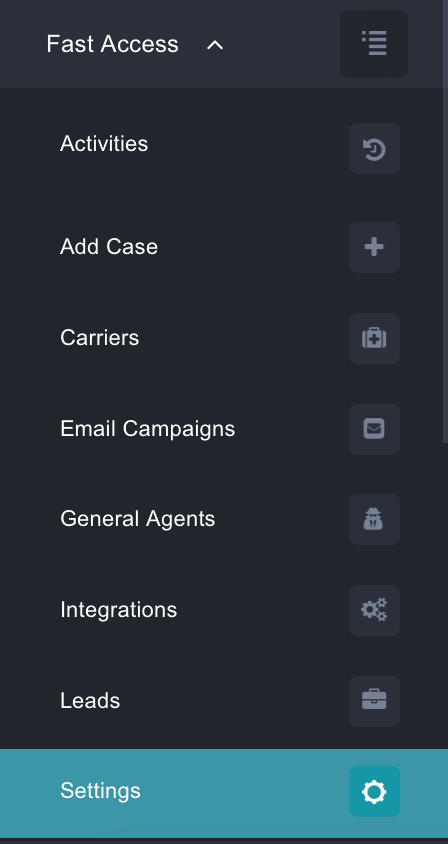 In the upper-right corner of any page, click your name, and then choose Account Settings.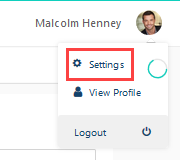 The Settings page is divided into several subpages, so let's explore each one of them.
Agency Settings


Profile: Manage your profile data, such as agency details, contact information, and locations.


Teams: On this tab, you can add Teams, edit Teams, and can Delete them.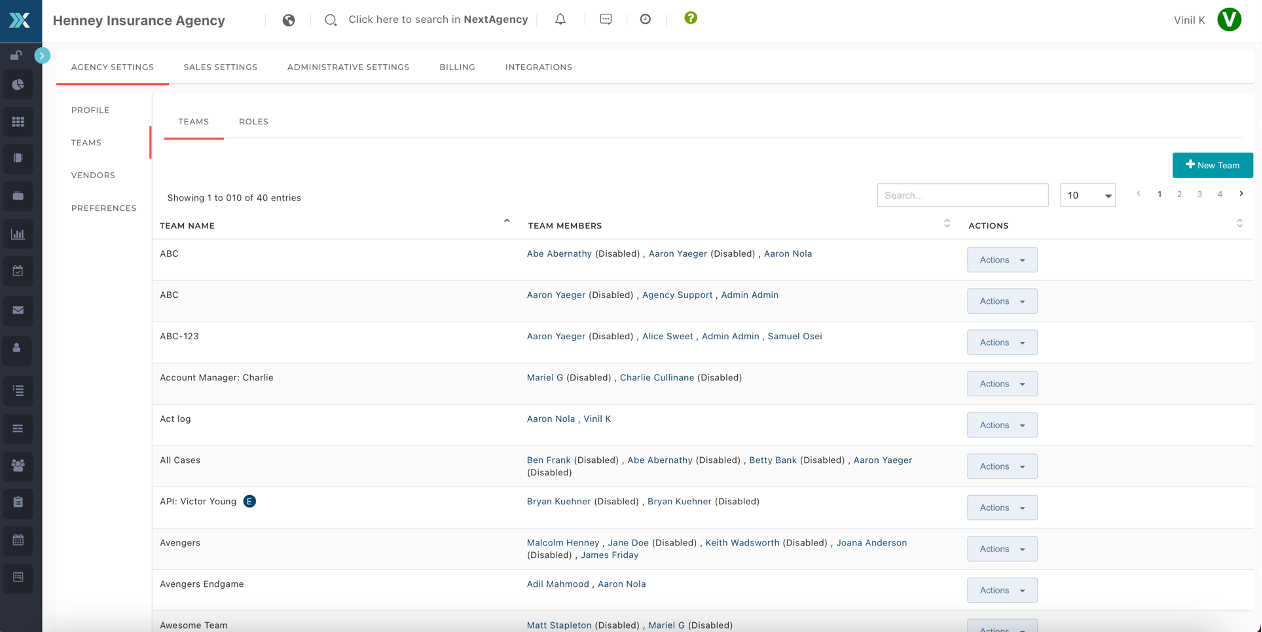 Roles: On this tab, you can add Roles and assign it to the Users. You can also edit and Delete the existing Roles.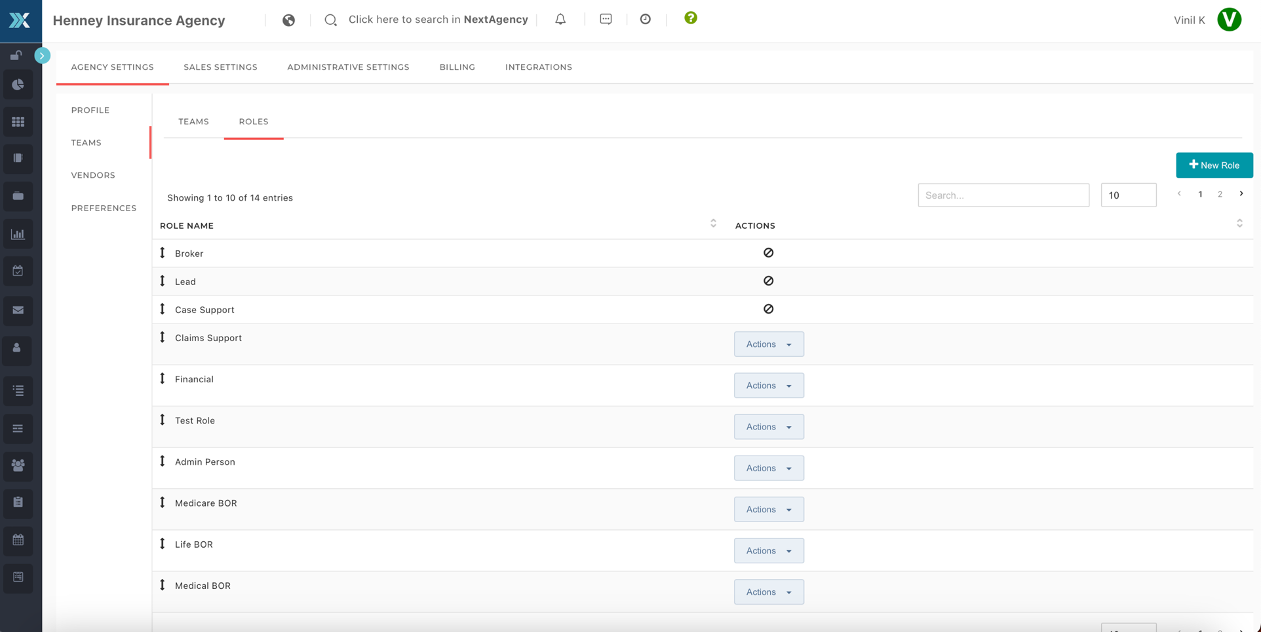 Vendors: Add the data relevant to the vendors that your company is working with and View/Edit/Delete vendor records.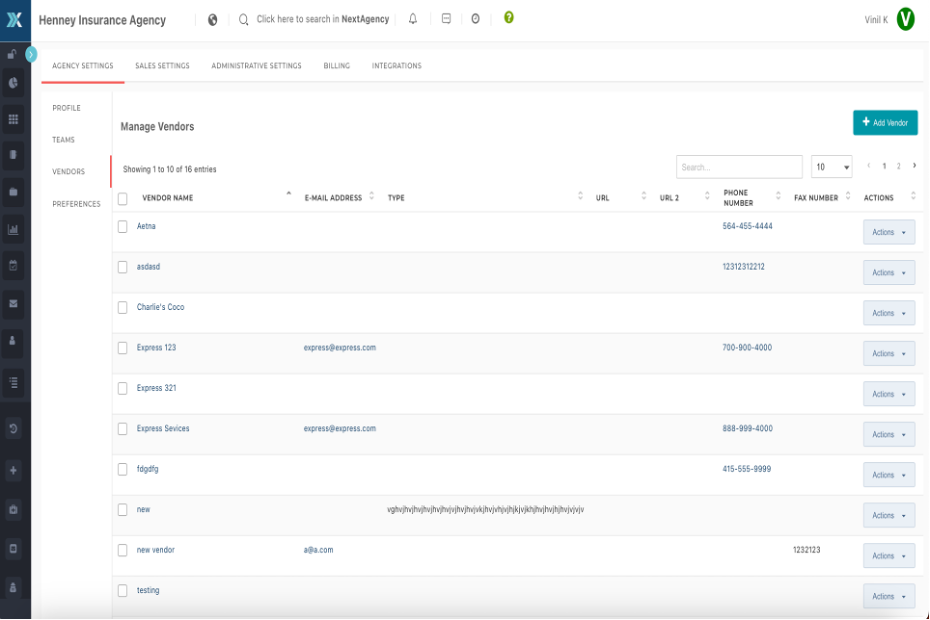 Preferences: The place where you can personalize your Personal and Agency preferences the way you like. Preferences has two tabs- Personal and Agency.
Personal:
This page lets you set your default Home page and Case tab that you wanted to be on.


Auto-Save Timeline page filter: Once turned on, this will automatically saves your Timeline filters based on your last filter.


Auto-Save Cases/Policies page filter: Once turned on, this will automatically saves your Cases/Policies page filters based on your last filter.


Auto-Save Sub-Agent page filter: Once turned on, this will automatically saves your Sub-Agent page filters based on your last filter.


Automatically copy Dependent address information from Primary account address: Turning this on will ensure that the dependent's address is automatically copied from the Primary account address.


Enable/Disable Notifications: You can customize the way you receive notification for each item in NextAgency. You can also turn off all of them.


Agency: Here you can customize your agency wide settings like Phone number format, Locking/Unlocking Agency Notes, Tasks and Tickets, Auto-Sign off settings and Two factor authentication settings swhich will be reflected to all the users in your Agency.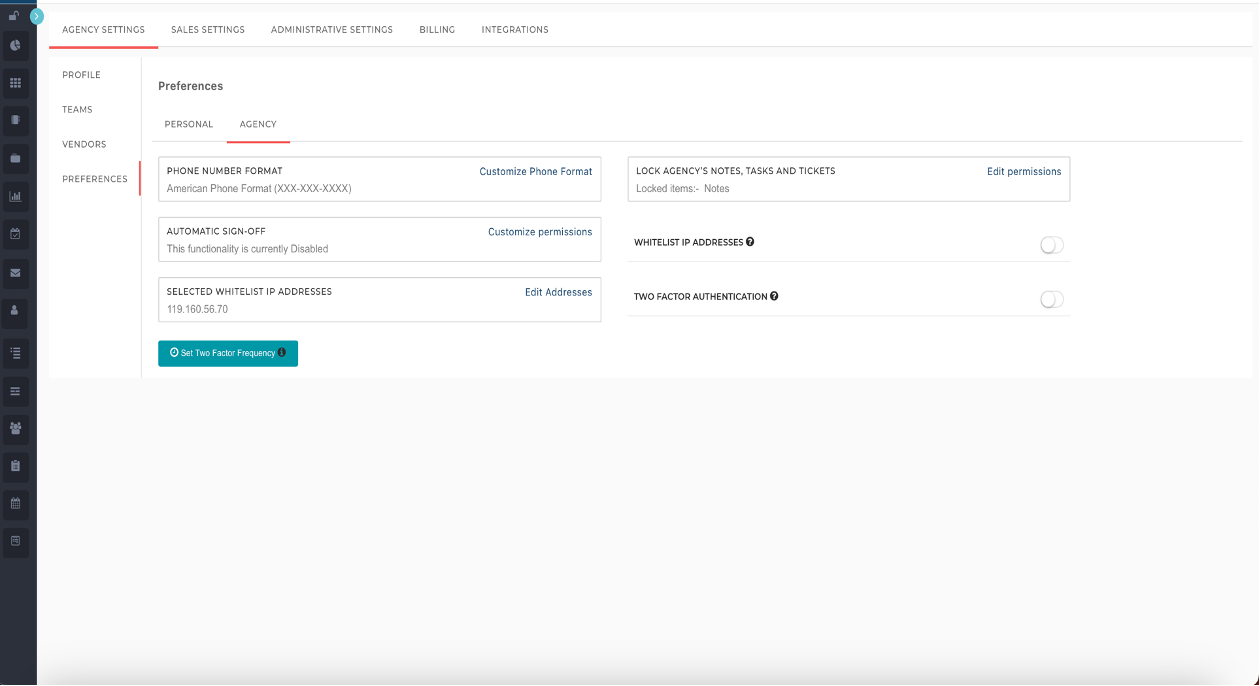 Sales Settings
Checklists: Add/Manage the checklists from here. You can also assign checklists to the case records from this page.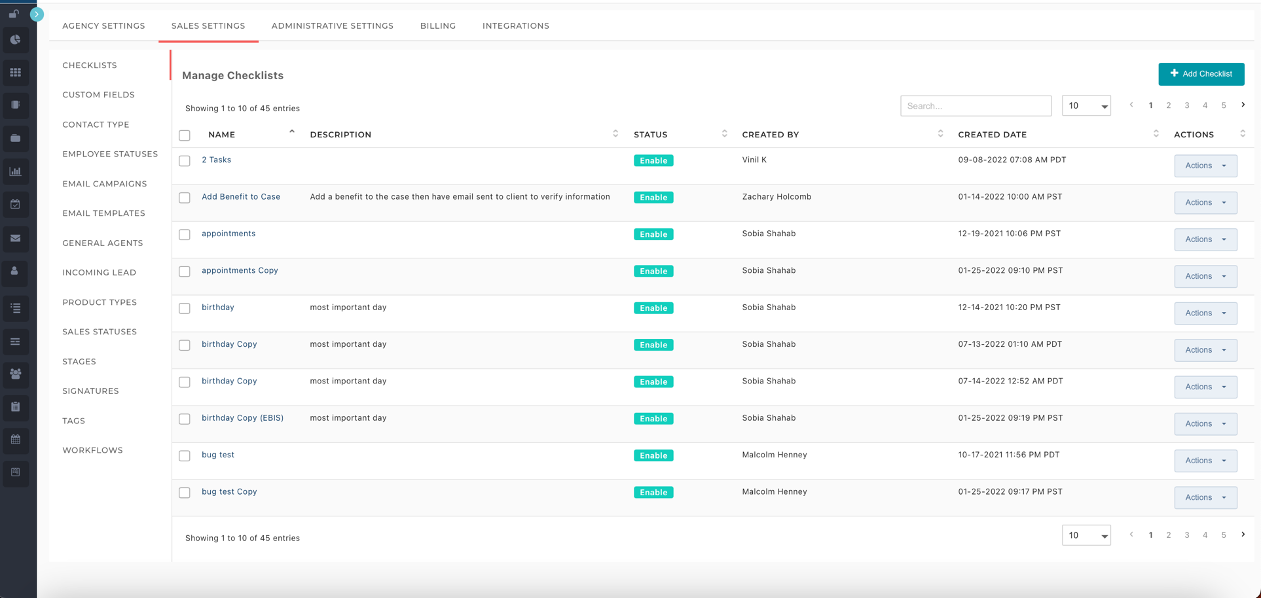 Custom Fields: Add/Edit/Delete your Case, Benefit, Contact, Commission, Sub Agent, Task/Ticket and Notes custom fields.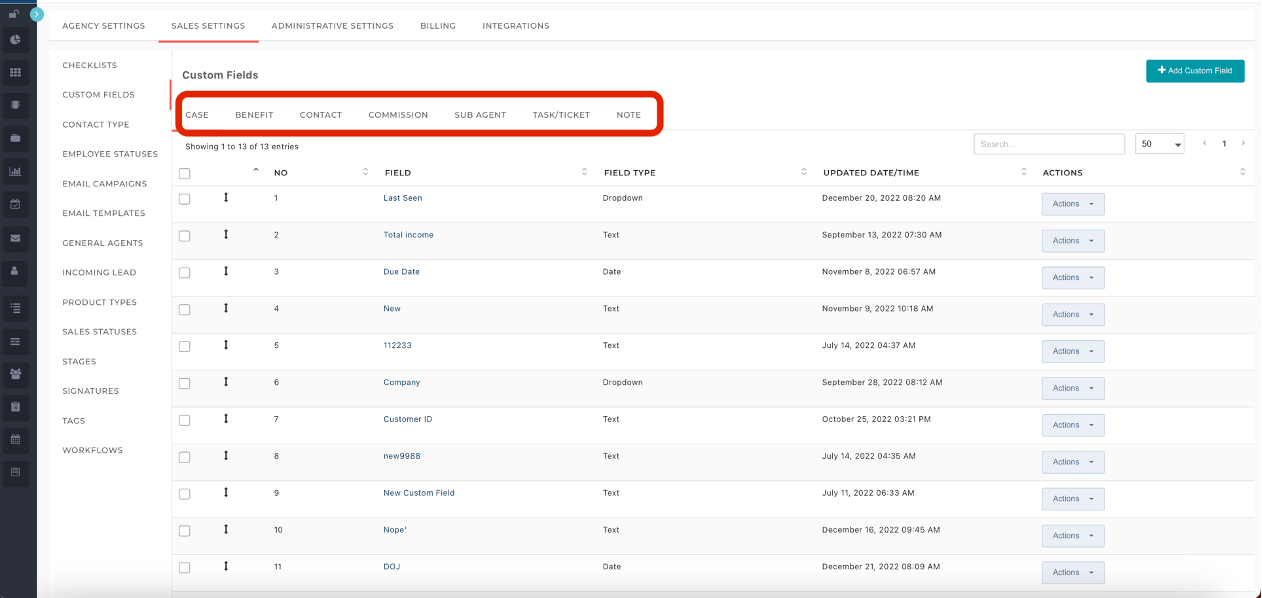 Contact Type/Employee Statuses: Add/Edit/Delete the contacts type and Employee statuses.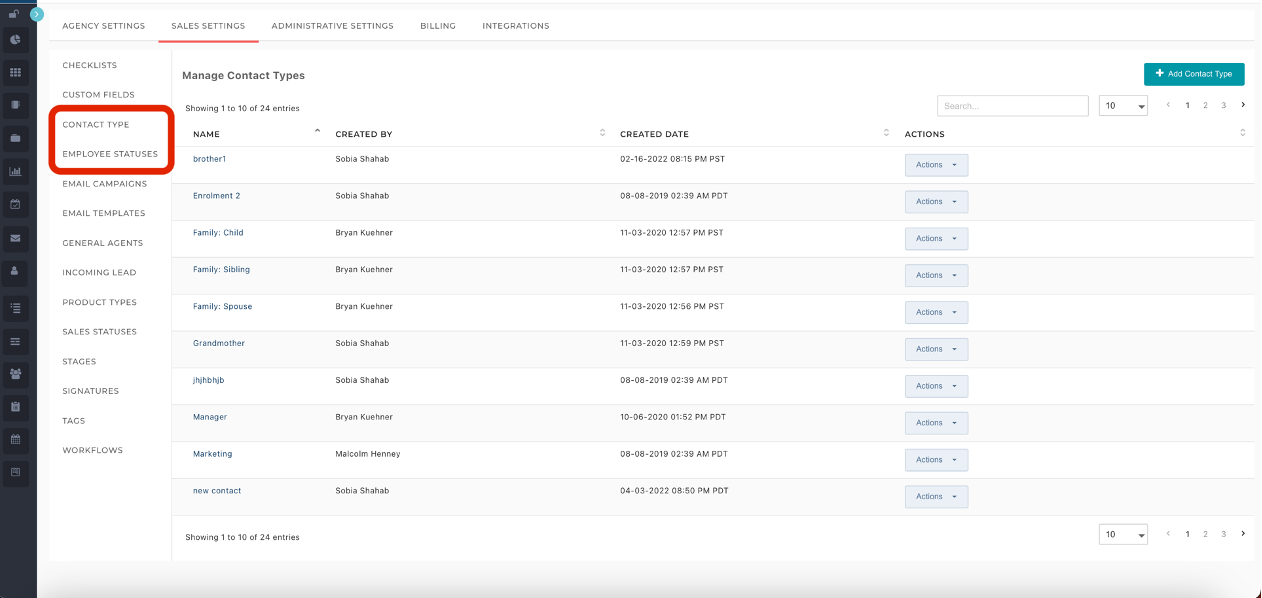 Email Campaigns: Add/Manage your Email campaigns here. You can also view the statistics of your email campaigns on this page. If you want to add a new Email campaign, simply click on 'Add Email Campaign'.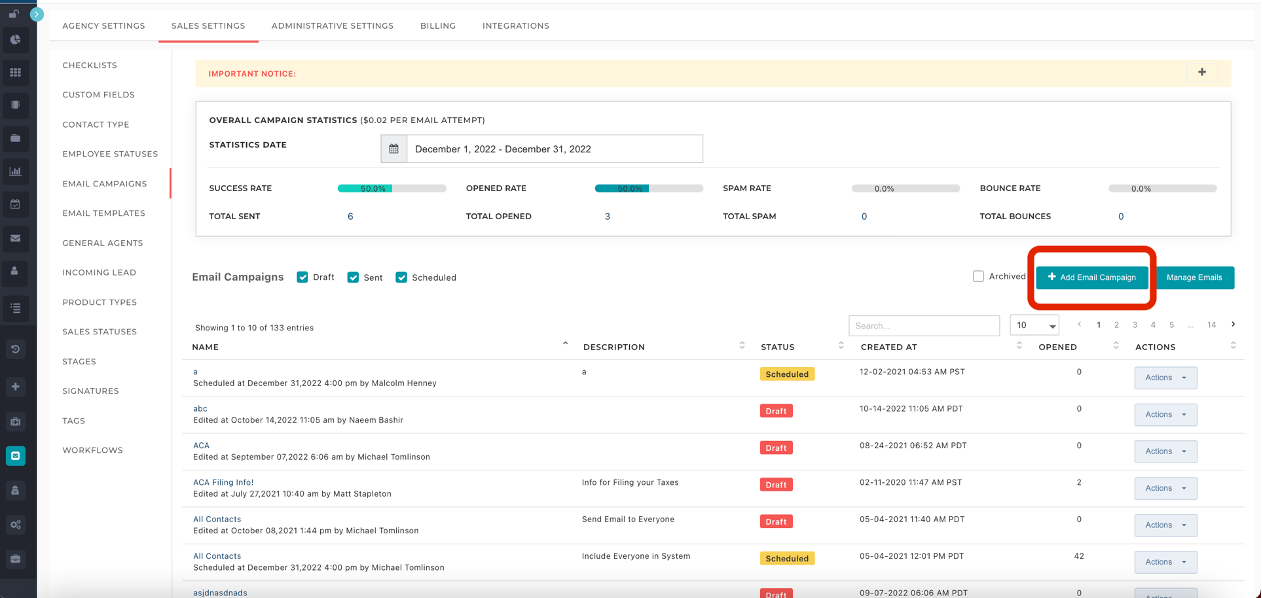 Email Templates: Email Templates are a great way you can save time. Just create an email template and you can use it either while sending emails or you can add it to your email campaigns.
General Agents: Add/Edit/General Agents.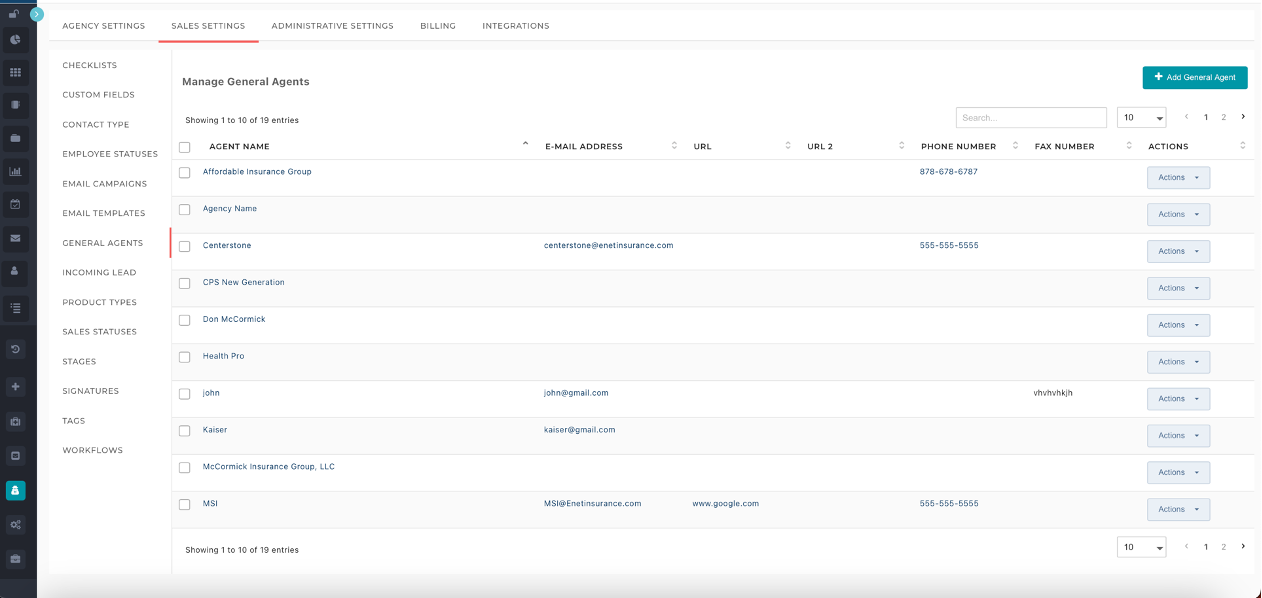 Incoming Lead: Capture your incoming leads from your website that will land into NextAgency and appear here.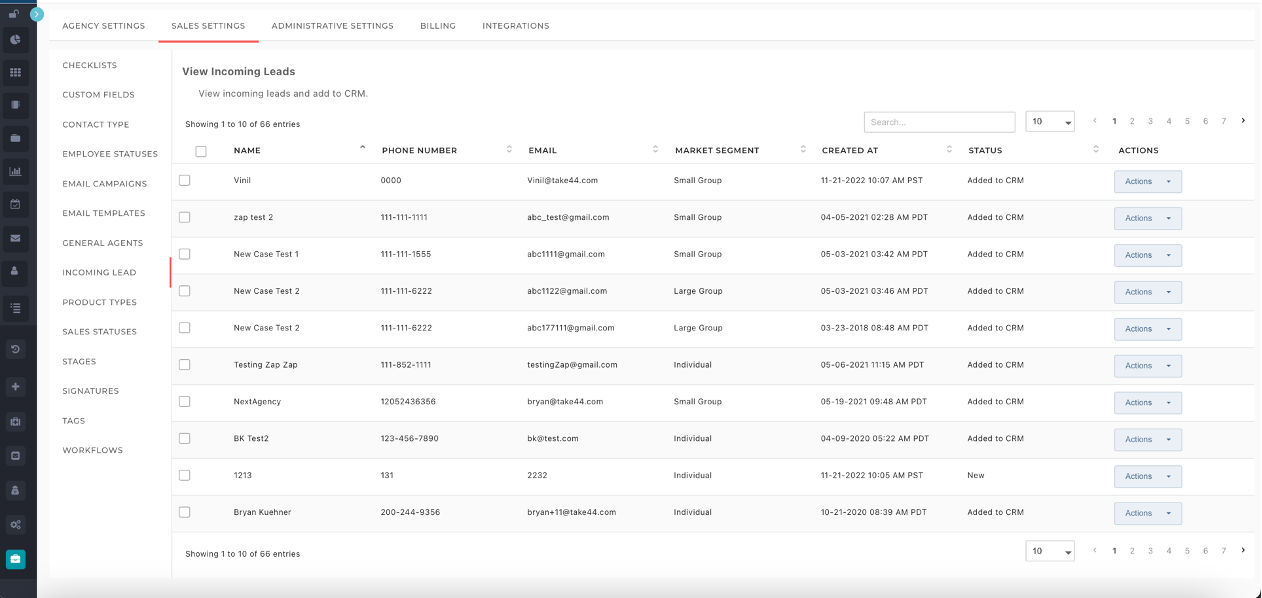 Product Types: Add/Edit/Delete your products types from this page.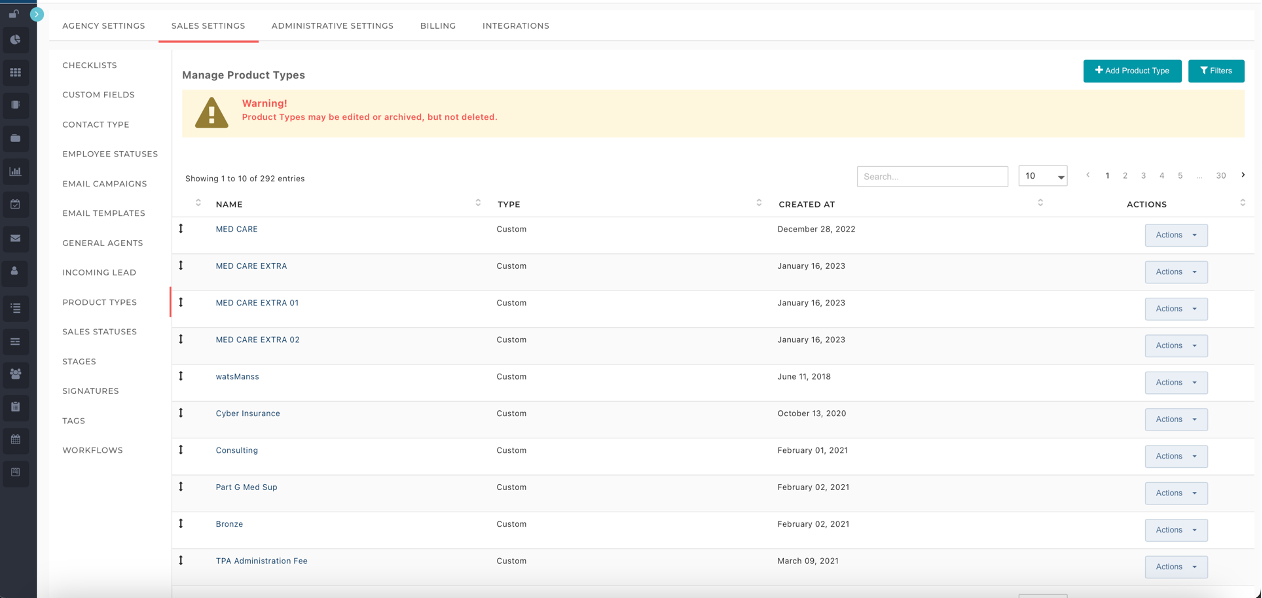 Sales Statuses: NextAgency allows you to add custom sales statuses to your portal and assign them to your appropriate case records.



Stages: NextAgency provides you with some default stages. You can also create your own customized stages in NextAgency.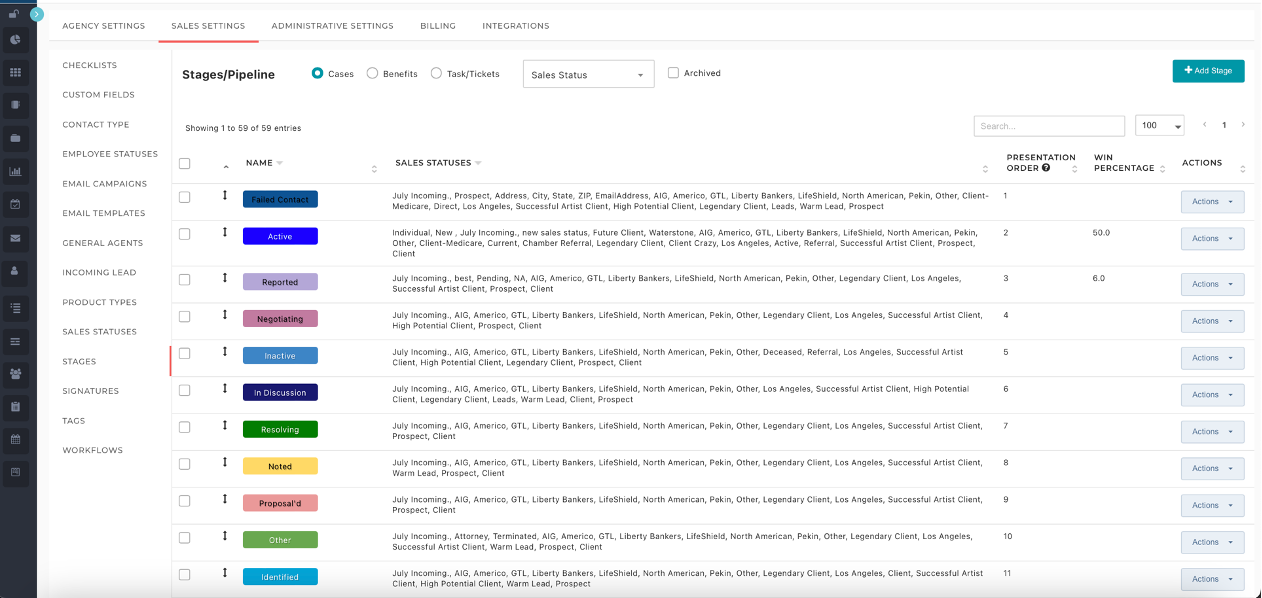 Signatures: Add your custom signatures to your emails in NextAgency.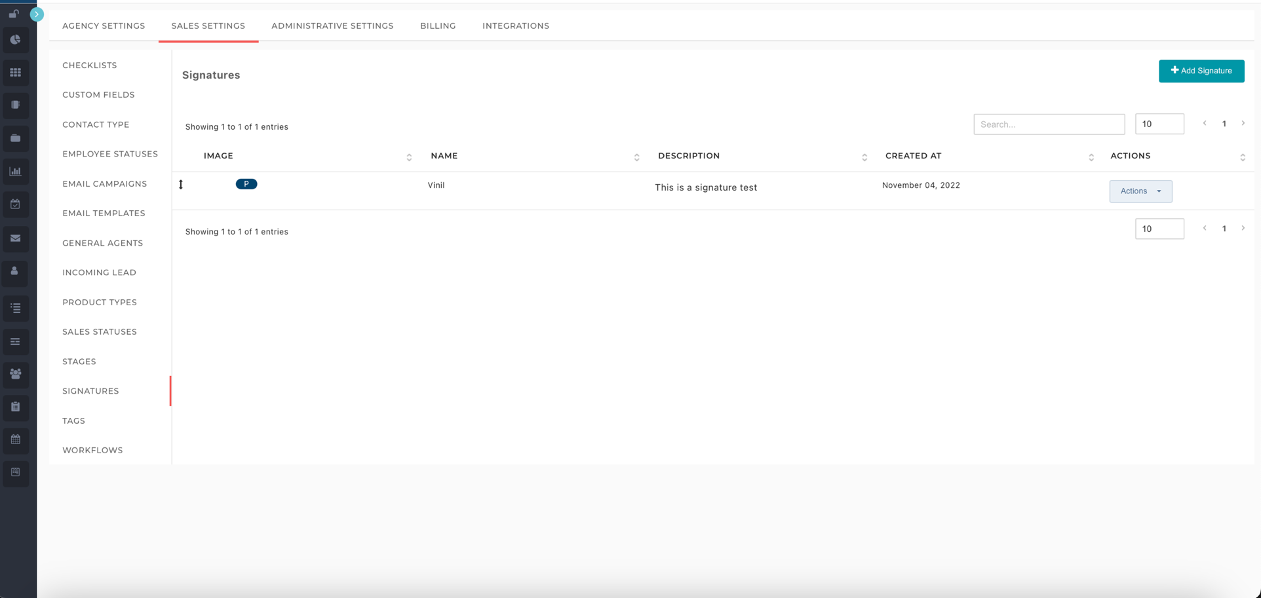 Tags: You can create Tags in NextAgency which can be assigned to case records if you want to distinguish between case records by certain criteria.(Example- By location or by Ownership).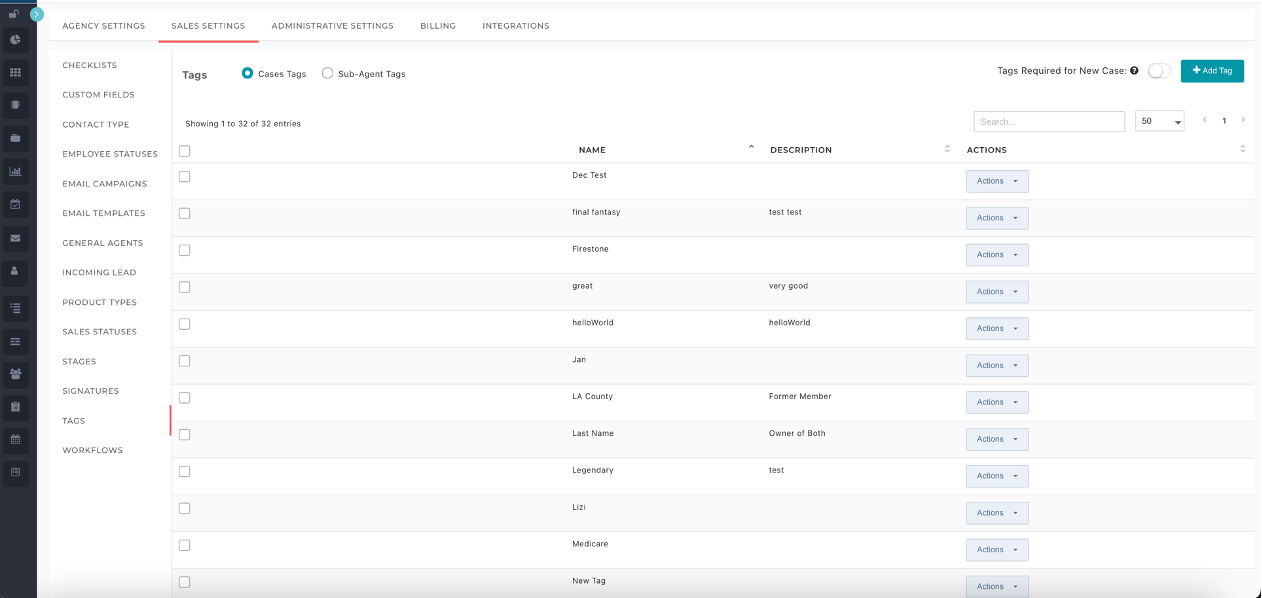 Workflows: Powerful tool! Workflows enable you to automate your Agency's work. If you want to send Renewal emails to your clients or send a birthday email or to create Tasks, you can do that by simply creating workflows accordingly.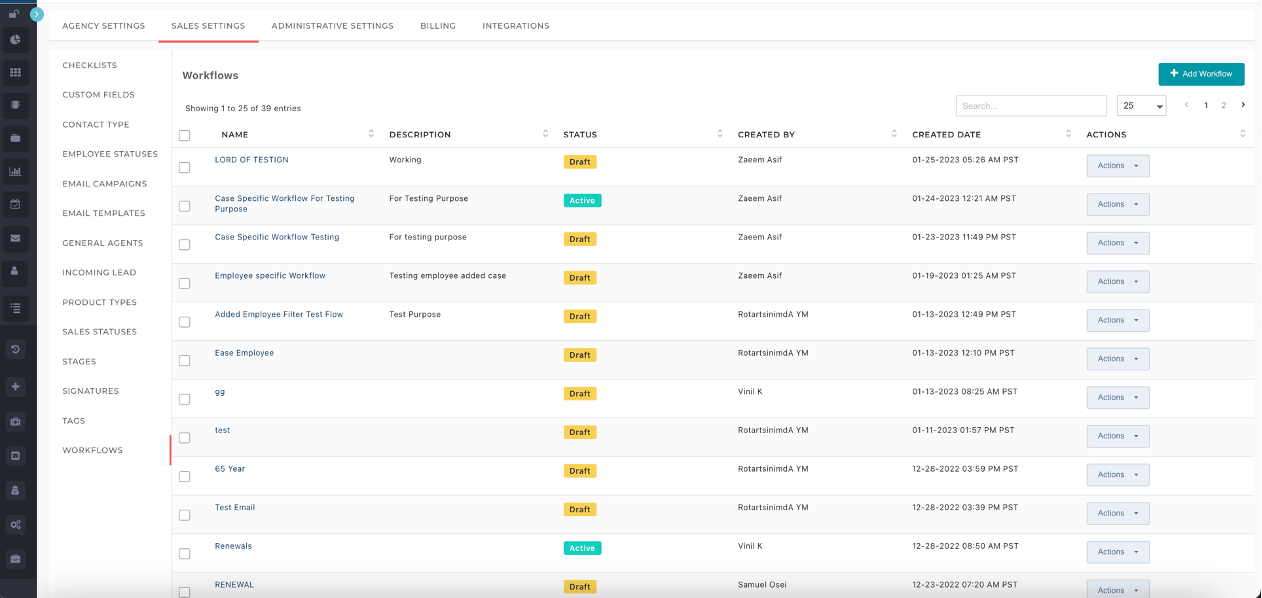 Administrative settings
Carriers: You can add/Manage/Delete Carriers from this page. You can also import plans from this page.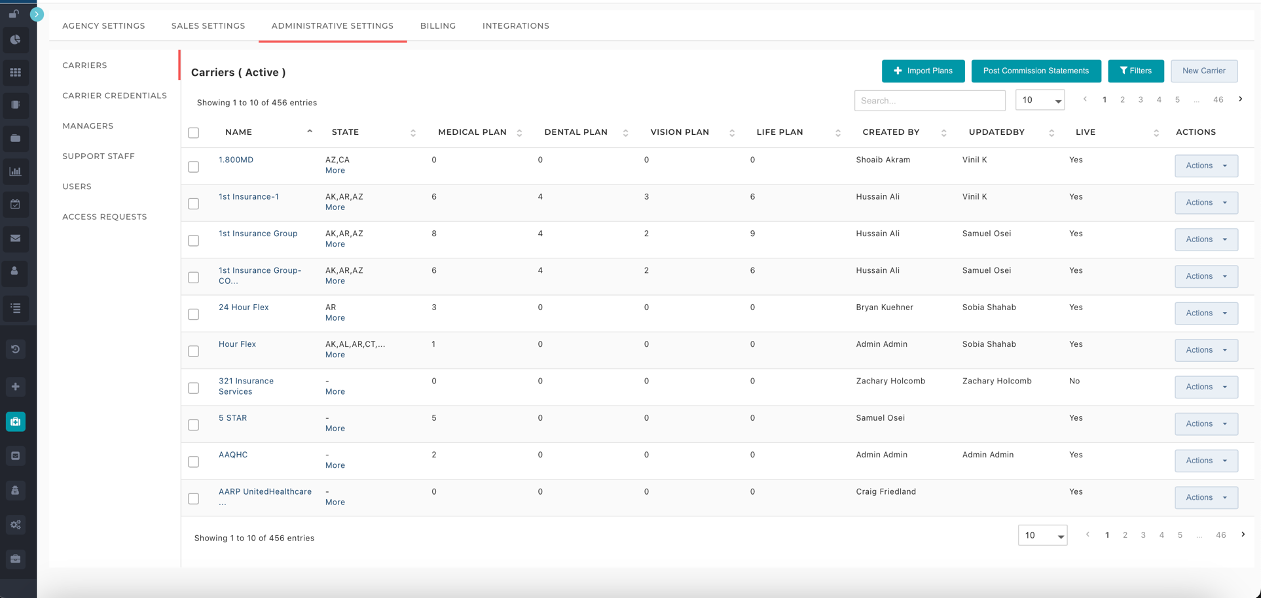 Carrier Credentials: NextAgency enables you to save your Carrier credentials on this page which will save you time.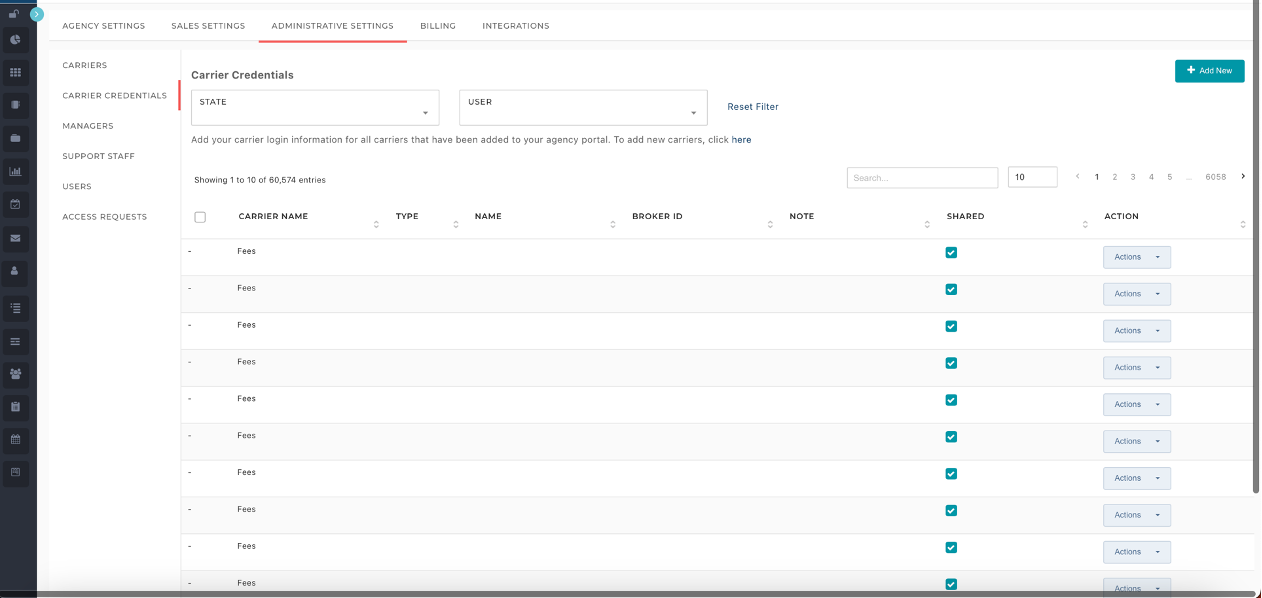 Managers: You can Add your Managers on this page.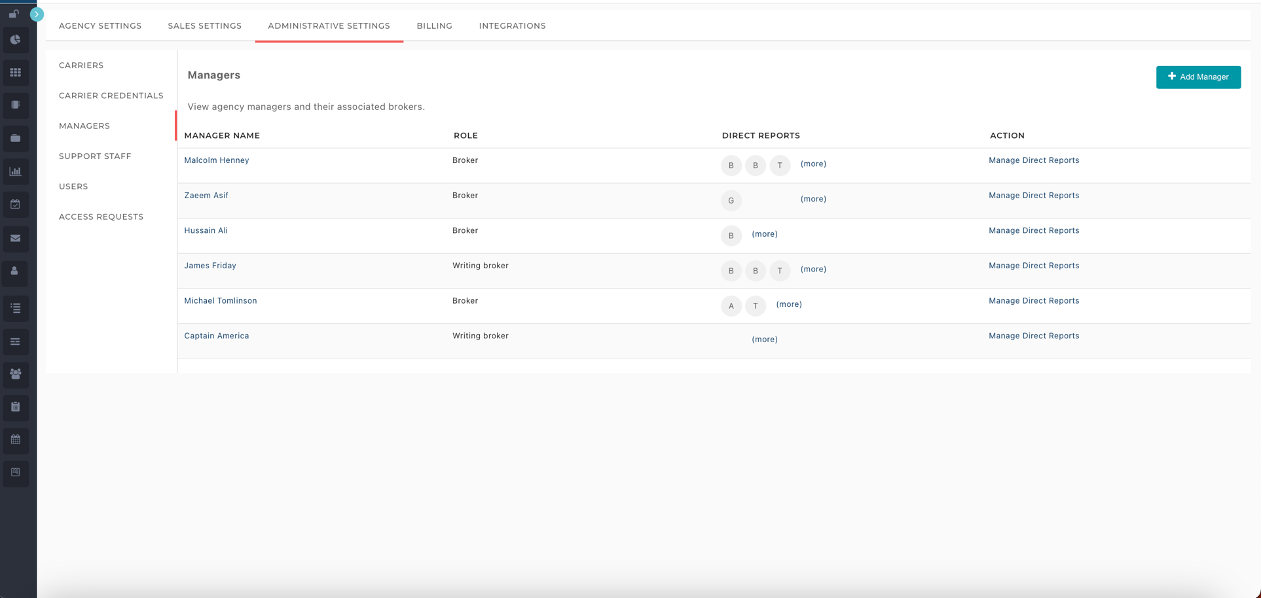 Support Staff: You can add your support staff details in NextAgency.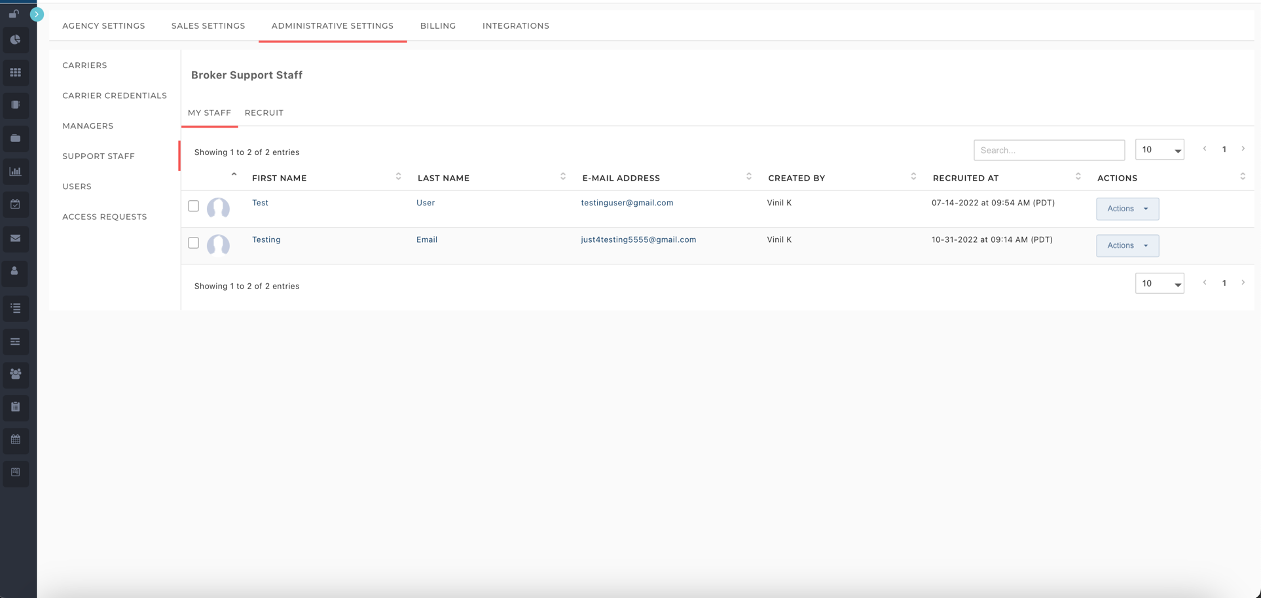 Users: You can add/edit/delete your agency users from this page. If you want to add a new user, click on 'Add an authorized user'.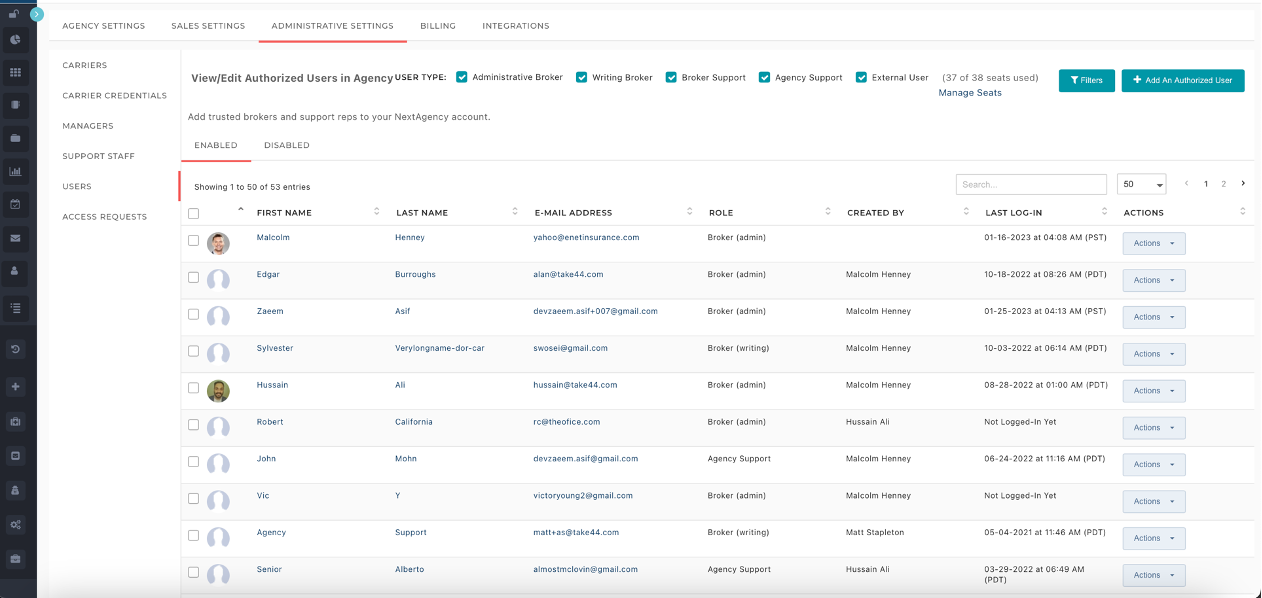 Access Requests: You can grant/revoke access to NextAgency staff incase any troubleshooting or testing is required by NextAgency staff.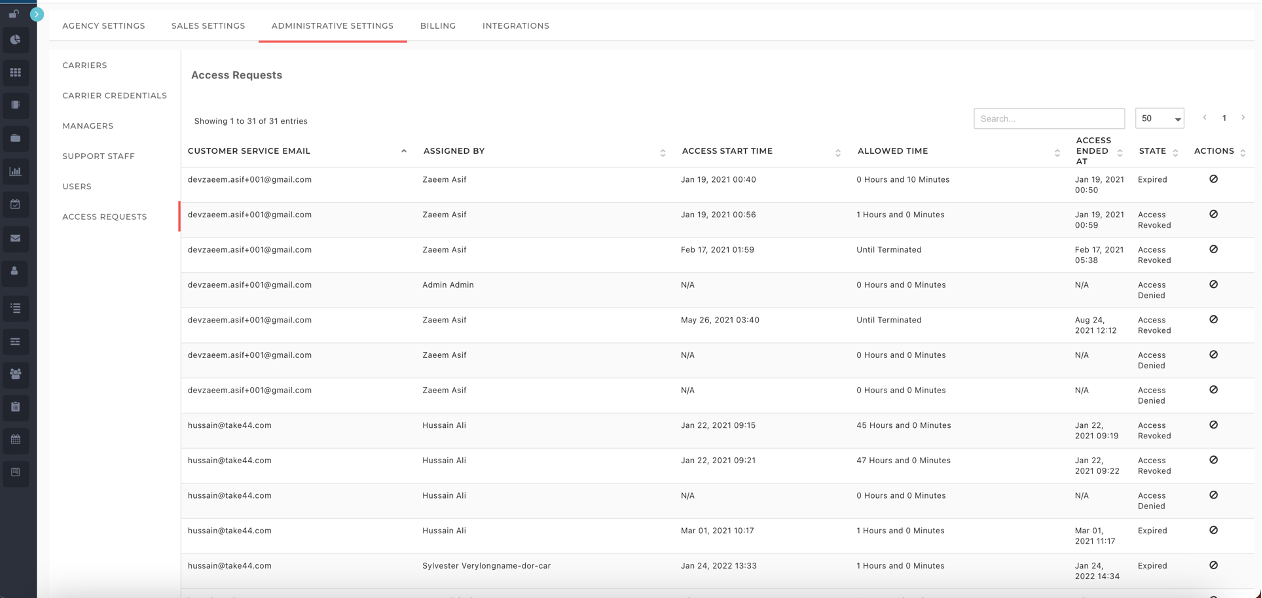 Billing: On the billing tab, you can view your subscriptions, Add-ons, billing estimate and billing details. You can also view the billing history, and NextText history from the menu on the left.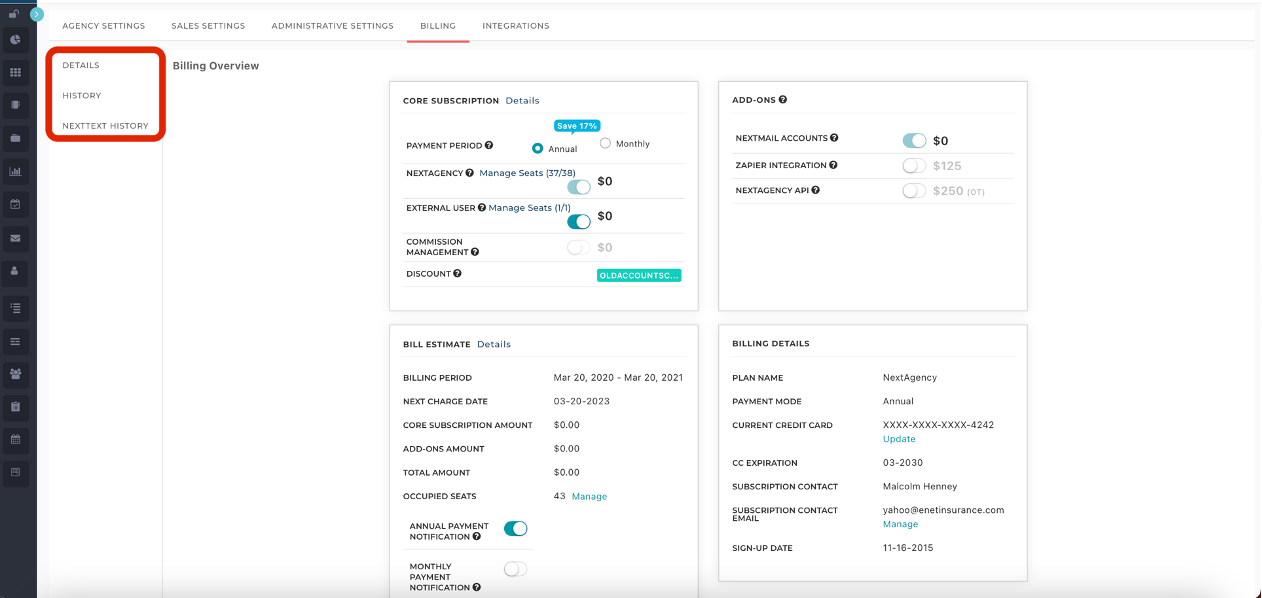 Integrations


NextMail/NextCalendar: You can integrate your email into NextAgency to send and receive emails within NextAgency. Click on 'Add Email Account' to start the step up process.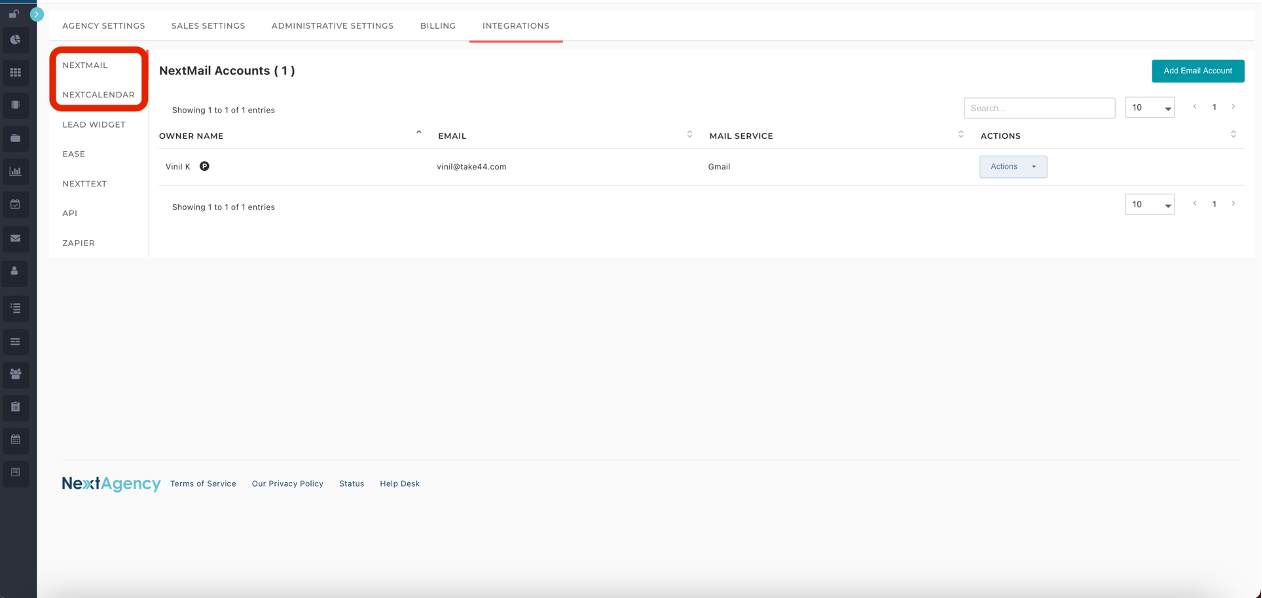 Lead Widget: You can create a lead widget using the code provided by NextAgency.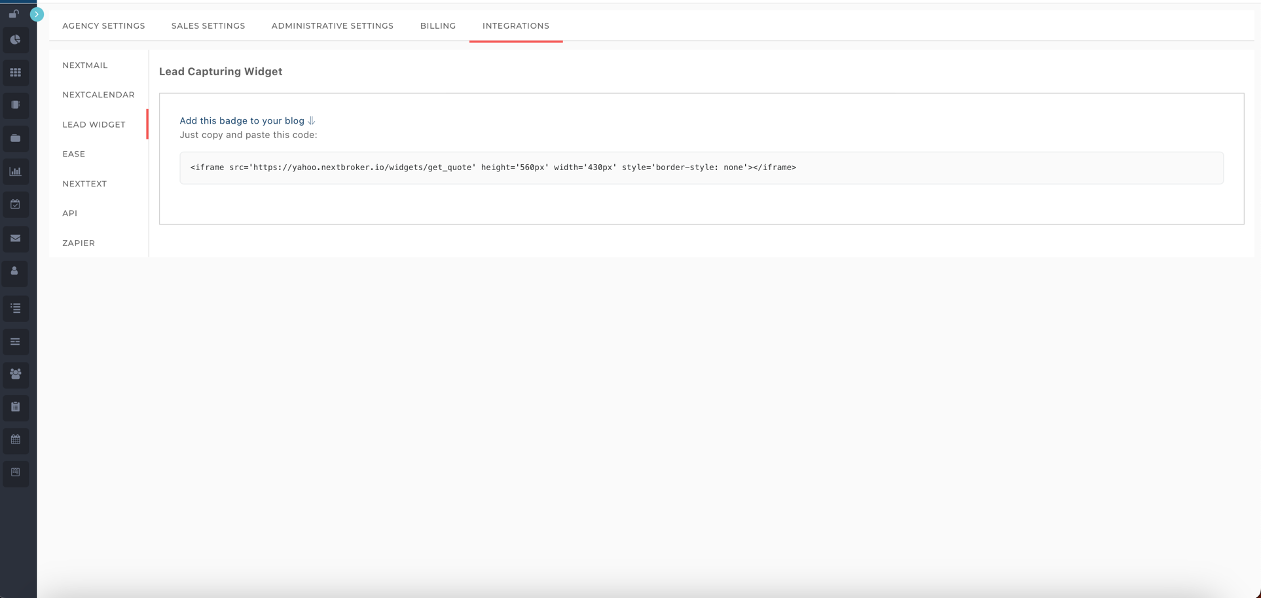 Ease: You can synchronize your Ease account with NextAgency here.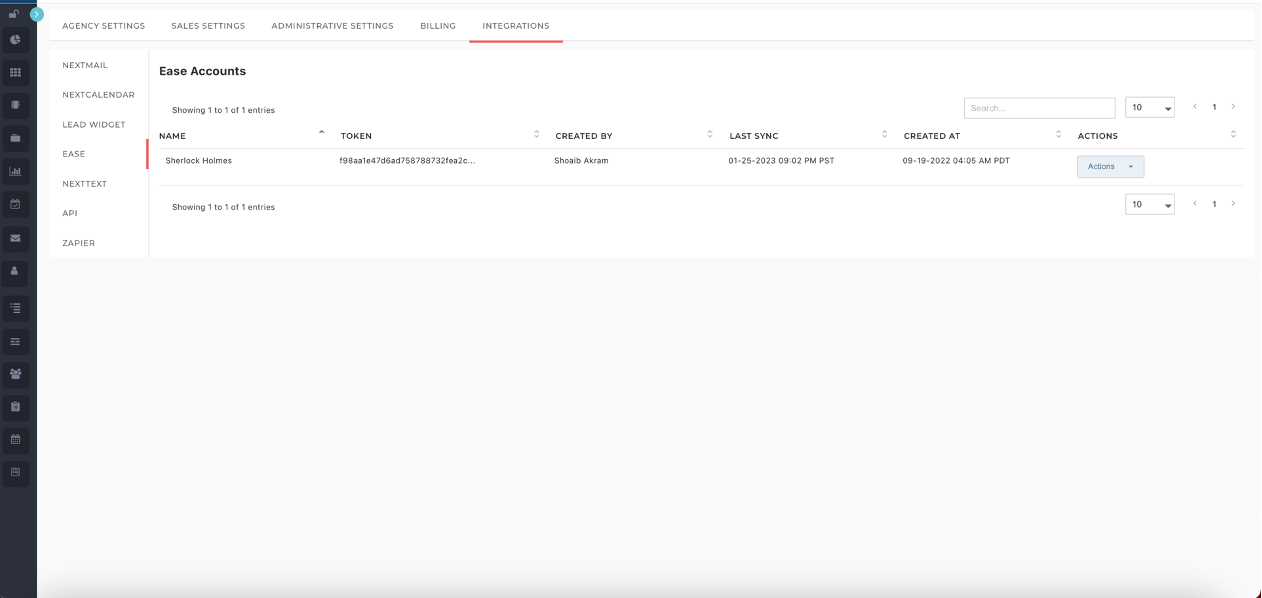 NextText: You can use a phone number to send or receive texts messages. If you want to send updates to your clients, this is very handy.

API: You can integrate your third party API integrations from this page.
Zapier: This page will have the Zapier integration key which you will need for enabling Zapier Integrations.