On the Settings page, you can manage information that is relevant to your NextAgency account and access the most important functionalities of NextAgency with just a couple of clicks.



There are two ways to access the page:
In the navigation bar, scroll to the bottom and click on Settings.
In the upper-right corner of any page, click your name, and then choose Settings.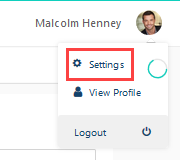 The Settings page is divided into several subpages, so let's explore each one of them.
Agency Settings

Access Requests: You can monitor all access requests made by our support team on this page. Access requests are initiated when the team needs to investigate or replicate an issue you've reported for documentation purposes or during the initial data import phase. After collecting the necessary information, the team will proceed with the required actions. You also have the option to terminate access on this page.

You can grant/terminate access by Clicking on Actions > Grant Access/Terminate Access.

If you cannot locate the 'Access Request' option within the Settings page, it may be because you have insufficient permissions. In such instances, administrators have the authority to grant or revoke access requests.


Managers: You have the capability to both add and view your managers on this page.




Preferences: The place where you can personalize your Personal and Agency preferences the way you like. Preferences has two tabs- Personal and Agency.




Personal: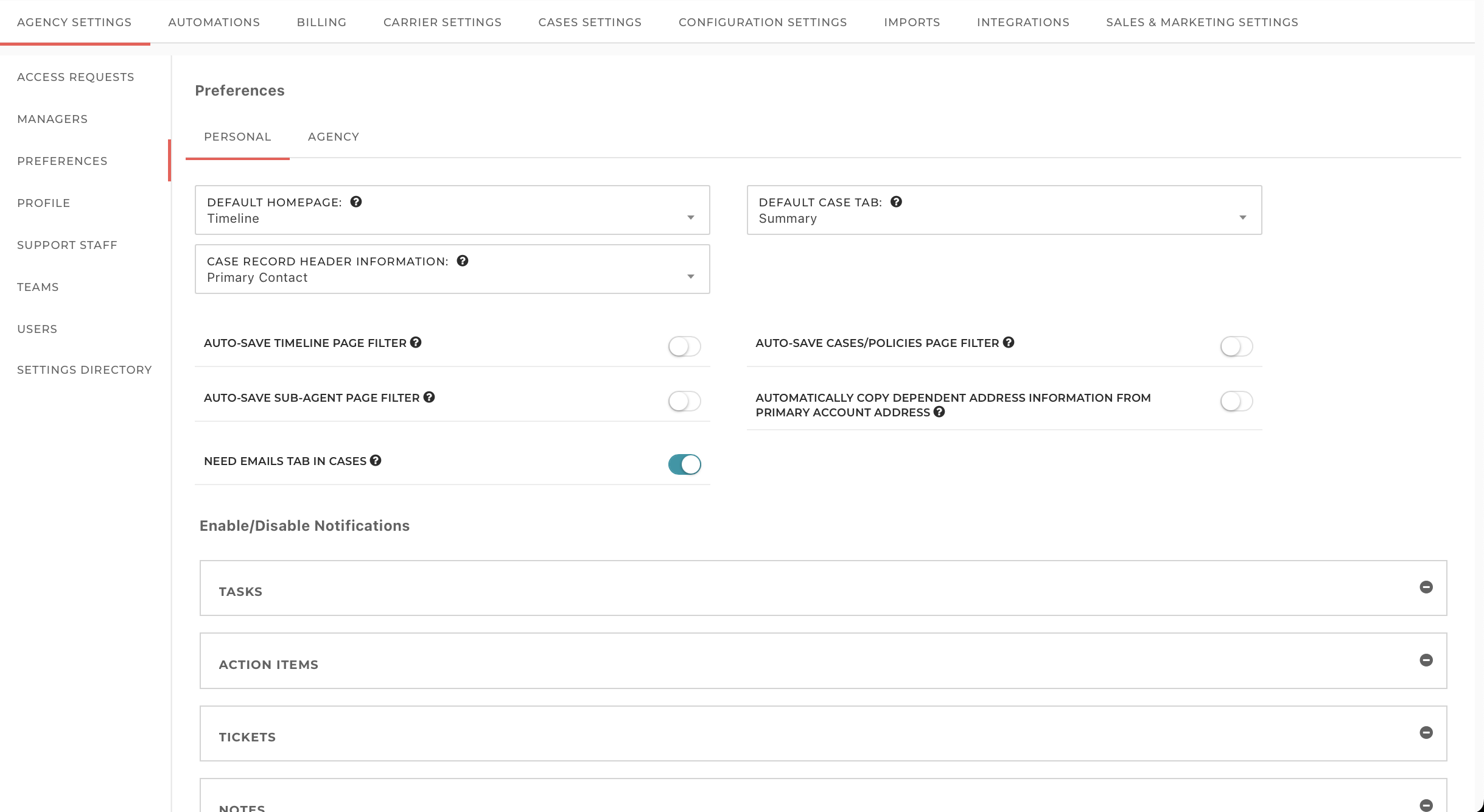 This page lets you set your default Home page and Case tab that you want to be on.


Auto-Save Timeline page filter: Once turned on, this will automatically save your Timeline filters based on your last filter.


Auto-Save Cases/Policies page filter: Once turned on, this will automatically save your Cases/Policies page filters based on your last filter.


Auto-Save Sub-Agent page filter: Once turned on, this will automatically save your Sub-Agent page filters based on your last filter.


Automatically copy Dependent address information from Primary account address: Turning this on will ensure that the dependent's address is automatically copied from the Primary account address.


Need Emails tab in cases: To access your attached emails when using the Outlook add-on, you must enable this feature.
Enable/Disable Notifications: You can customize the way you receive notifications for each item in NextAgency. You can also turn off all of them.


Agency:





Here you can customize your agency-wide settings like Phone number format, Locking/Unlocking Agency Notes, Tasks and Tickets, Auto-Sign off settings, and Two-factor authentication settings which will be reflected to all the users in your Agency.
Profile: Manage your profile data, such as agency details, contact information, and locations.






Support Staff: All your support staff details can be found here.



Teams: This tab provides you with the ability to perform several actions. You can add teams, make edits to existing teams, and delete them. Additionally, there's a "Roles" tab where you can create new roles and assign them to users. Furthermore, you can edit and delete roles that already exist.





Users: This page allows you to manage your agency users by adding, editing, or deleting them. To add a new user, simply click on 'Add an authorized user.' You can also filter users by their roles for easier navigation.







Settings Directory: To help you find settings quickly, we present the attached directory. This PDF has three pages. The first sorts the settings alphabetically. The second page sorts the settings by where they were. The third by where they are now. You'll find this same option conveniently located at the bottom of every tab, ensuring easy access to the directory whenever you need it.


Automations

This page serves as your central hub for configuring various automations such as Checklists, Merge Templates,and Workflows. Here, you have the flexibility to add, customize, and tailor these automations to align perfectly with your agency's specific preferences and requirements. This empowers you to streamline and automate your processes effectively, enhancing overall efficiency and productivity.







Billing

On the billing tab, you can view your subscriptions, Add-ons, billing estimates, and billing details. You can also view the billing history, and NextText history from the menu on the left.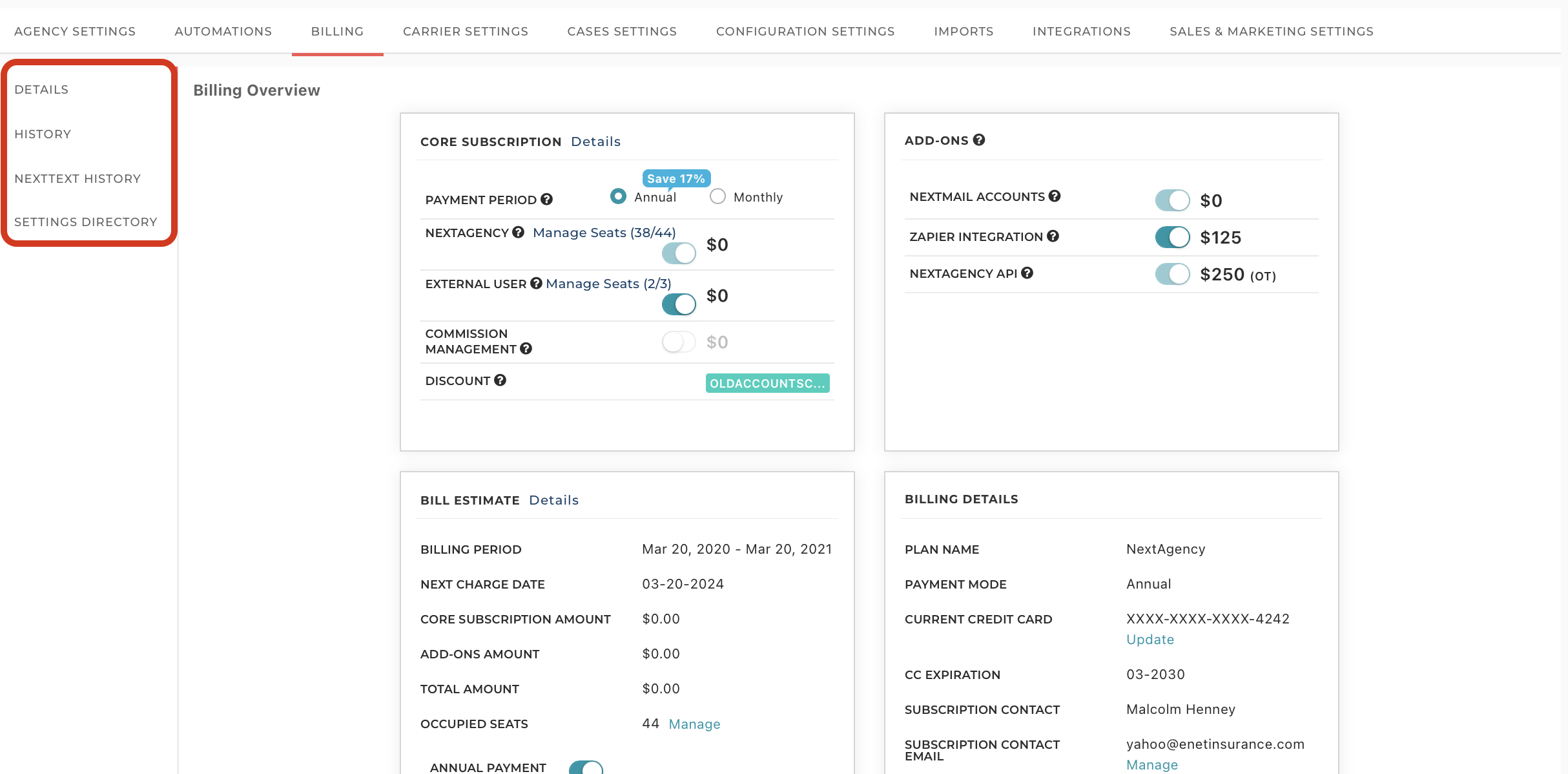 Carrier Settings

Within this section, you have the ability to access and manage your Carrier Credentials and Product Types. This includes the ability to view, add, and edit the existing information for these crucial elements of your operations. This centralized platform empowers you to maintain and update essential data efficiently and accurately, ensuring your processes run smoothly.









Case Settings





The Case Settings section is for configuring and fine-tuning various aspects of your case records. This includes settings related to contact roles, employee statuses, sales statuses, and stages. By utilizing these settings, you can customize and optimize the way your case records are managed, ensuring that they align seamlessly with your business processes and requirements. We will proceed to review each of them individually below.

Contact Roles: On this page, you have the capability to perform various actions related to contact roles. You can add new roles, view existing ones, make edits to their details, and, if necessary, delete specific roles. This functionality provides you with the flexibility to effectively manage and customize contact roles within your system.

Employee Statuses: This page provides you with the capability to add different types of employee statuses. You can add and manage all of these distinct statuses from here, making it convenient and efficient to manage all the statuses.

Sales Statuses: Although we offer "Client" and "Prospect" as default sales statuses, you can expand and tailor this list according to your specific business or agency requirements on this page.

Stages: On this page, you have the capability to add and modify stages for Case Records, Benefits, and Tasks/Tickets. You can create custom stages with names and styles that align with your preferences, which can then be applied to Cases, Benefits, or Tasks/Tickets as needed. To initiate the creation of the desired stage, simply switch to the respective section, whether it's Cases, Benefits, or Tasks/Tickets and click on 'Add Stage'.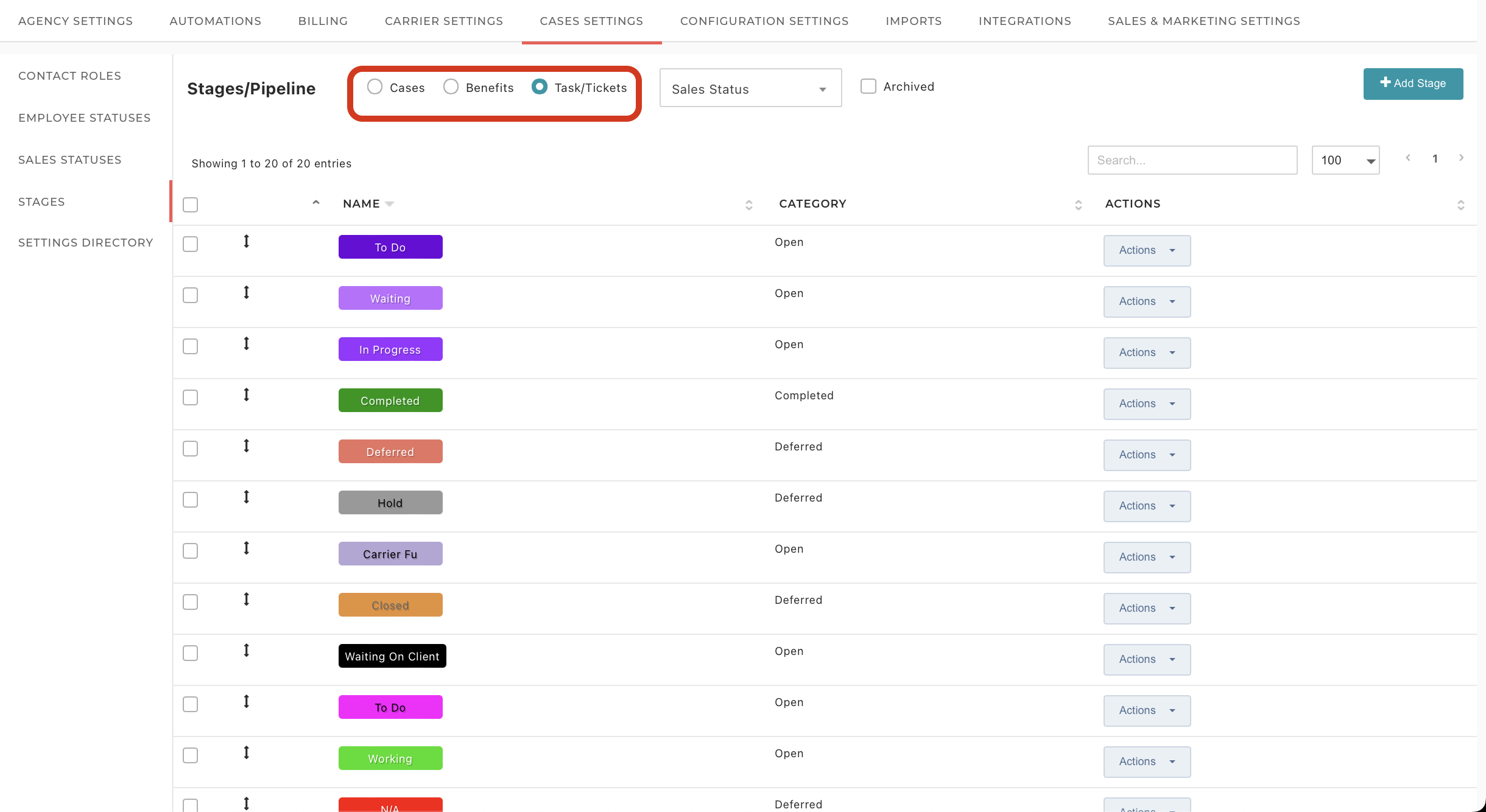 Configuration Settings





This page serves as a comprehensive configuration hub, enabling you to fine-tune various essential settings. You can customize Contact Types and custom fields, and manage tags according to your specific needs and requirements. These configuration settings empower you to tailor your system to match the unique characteristics and attributes of your agency, ensuring a more efficient and personalized experience. We will now take a closer look at each of them, addressing them individually in the following sections.

Contact Types: You have the flexibility to tailor contact types to align with your specific requirements. To create a new contact type, click on 'Add Contact Type,' and you will be able to assign it to your preferred contacts. This customization ensures that your contact categorization meets your precise needs.

Custom Fields: NextAgency provides you with a default set of essential fields for Cases, Benefits, Contacts, Commissions, Sub Agents, Tasks/Tickets, and Notes. However, if you find the need to include additional fields, you can create custom fields with the entry type of your choice, such as custom text, date fields, drop-down menus, or percentage values. To initiate the creation of a new custom field, navigate to the relevant section and click on 'Add Custom Field.' This flexibility allows you to tailor your data collection to meet your specific agency needs.






Tags: Tags provide a powerful way to search and filter for specific information that you're seeking. They can serve as filters on the Cases/Policies and Contacts pages, as well as within Reports. Within your portal, you have the capability to create and assign tags to Cases, Contacts, and Sub Agents. This tagging system enhances your ability to organize and retrieve relevant data efficiently.








Imports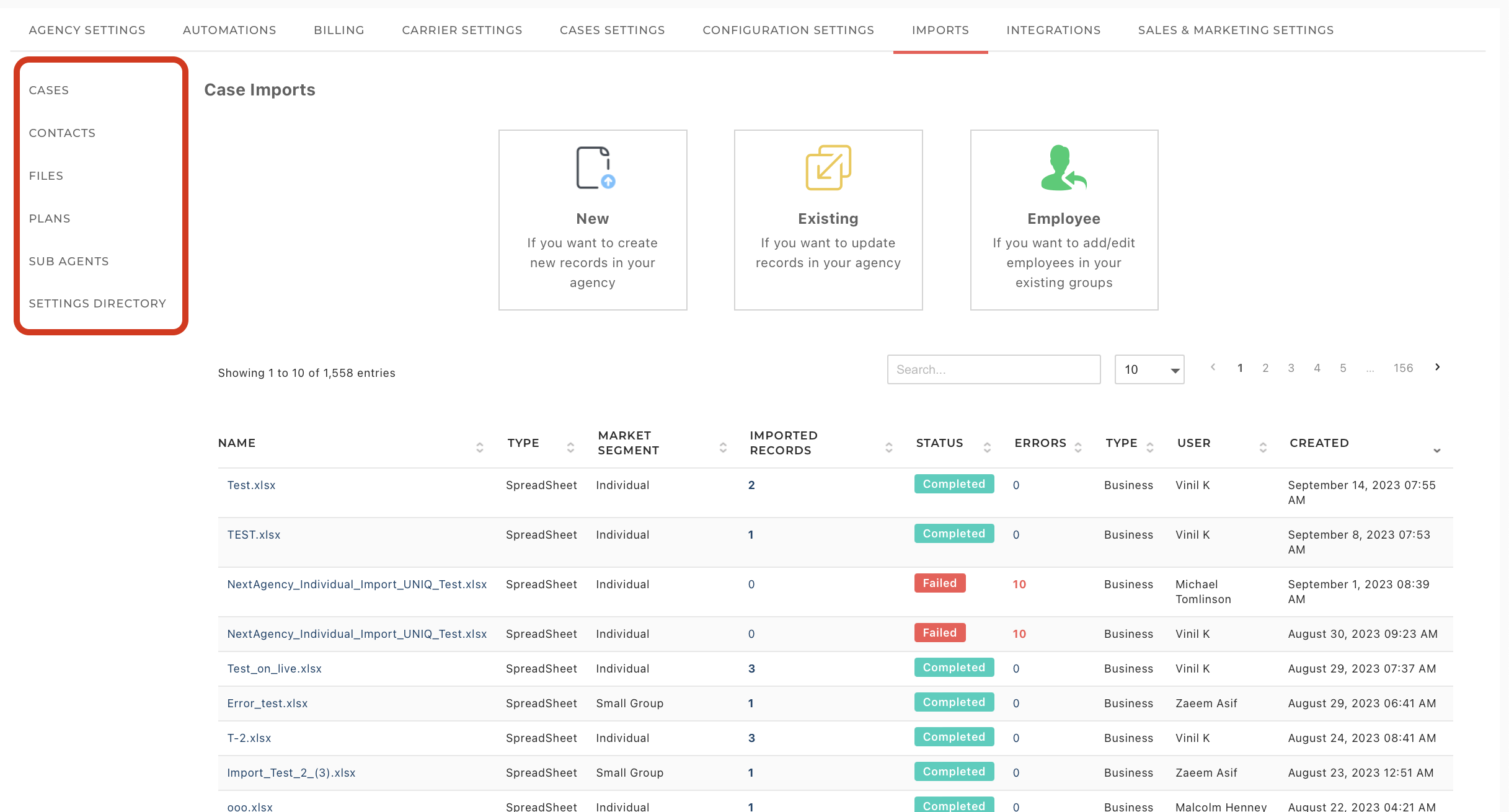 This is the central location where you can import all your agency information related to Cases, Contacts, Files, Plans, and Sub Agents. It serves as a comprehensive data import hub, streamlining the process of bringing in essential information and ensuring that your system is up-to-date and organized.

Integrations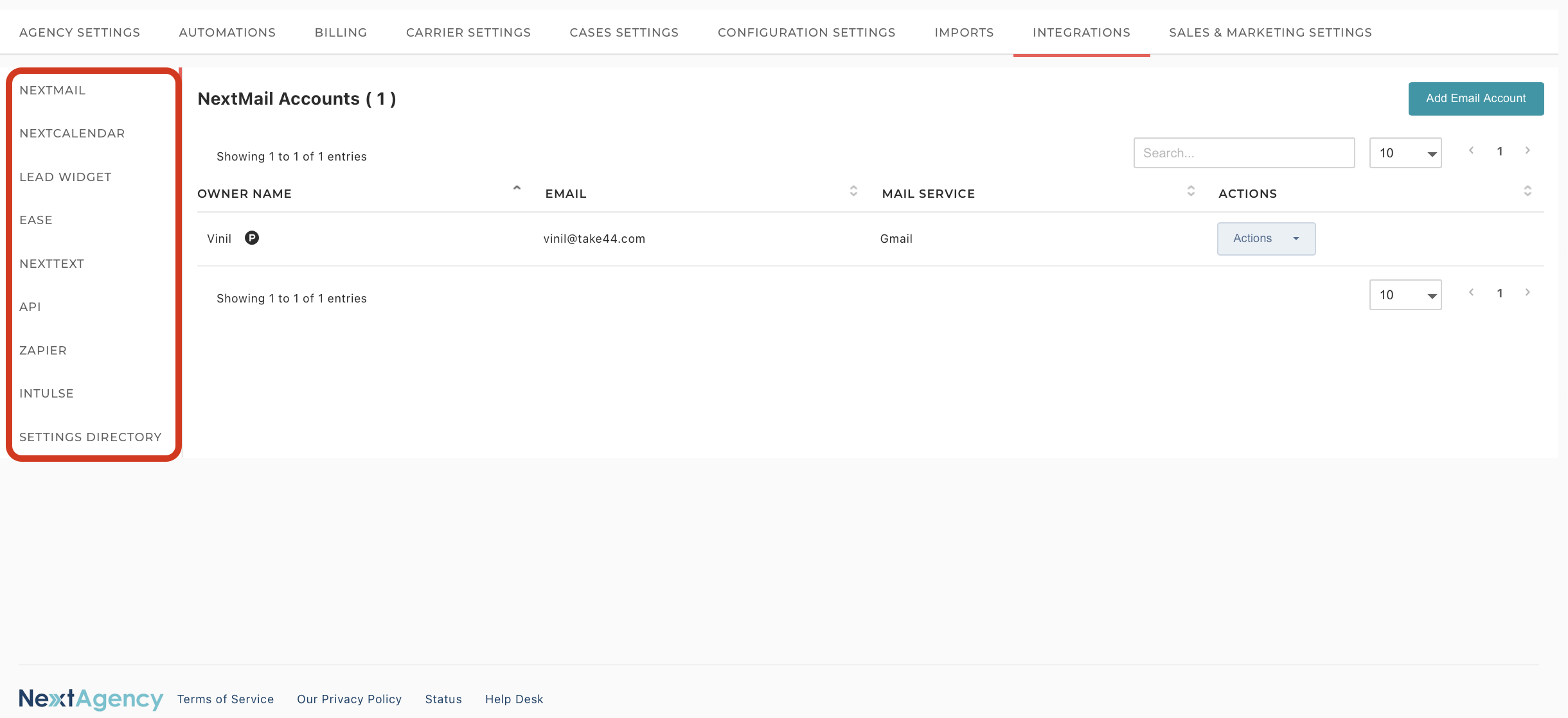 The Integrations section provides you with the capability to establish connections with other software applications seamlessly. Here, you can link various services, including your email provider (NextMail and NextCalendar), Lead widgets, Ease, NextText, APIs, Zapier, and Intulse accounts. This integration capability enhances your system's functionality by enabling data exchange and automation with external tools and platforms, making your workflow more efficient and productive.

NextMail/NextCalendar: You have the option to seamlessly incorporate your email system into NextAgency, allowing you to send and receive emails directly within the NextAgency platform. To initiate the setup process, simply click on 'Add Email Account.' This integration streamlines your email communication, making it more convenient and efficient to manage within NextAgency.

Lead Widget: You can generate a lead capturing widget by utilizing the code provided by NextAgency. This widget is a valuable tool that can be embedded into your website or other online platforms to capture and manage leads effectively. It enables seamless lead generation and integration with your NextAgency system, ensuring a smooth flow of prospective client information into your agency's workflow.





Ease: From this page, you can establish a connection and synchronize your Ease account with NextAgency. This synchronization ensures that all the information residing in your Ease account seamlessly integrates with NextAgency. This integration offers you the peace of mind that your data remains up-to-date and consistent across both platforms, streamlining your workflow and enhancing data accuracy and accessibility.


NextText: This feature allows you to purchase and utilize a phone number for both sending and receiving text messages within NextAgency. It proves to be exceptionally convenient when you need to send important updates or messages to your clients.

API(Application programming interface): You have the capability to seamlessly integrate third-party APIs directly from this page. This integration enables the exchange of data and functionalities between NextAgency and external software systems or platforms, expanding the capabilities and functionality of your NextAgency system. By connecting with APIs, you can enhance and extend the reach of your agency's operations, streamlining processes and accessing valuable resources from external sources.

Zapier: On this page, you will find the Zapier integration key, a crucial component required to enable Zapier Integrations. This integration key acts as the bridge between NextAgency and Zapier, allowing you to automate various tasks and data transfers between your NextAgency system and other applications or services supported by Zapier. It simplifies workflow automation and data synchronization, enhancing your overall efficiency and productivity.

Intulse: You can establish a connection between Intulse and NextAgency directly from this page. This integration with Intulse provides you with advanced telecommunications capabilities within NextAgency, facilitating seamless communication and information sharing. To access further information regarding the Intulse integration, please refer to this page.

Sales and Marketing Settings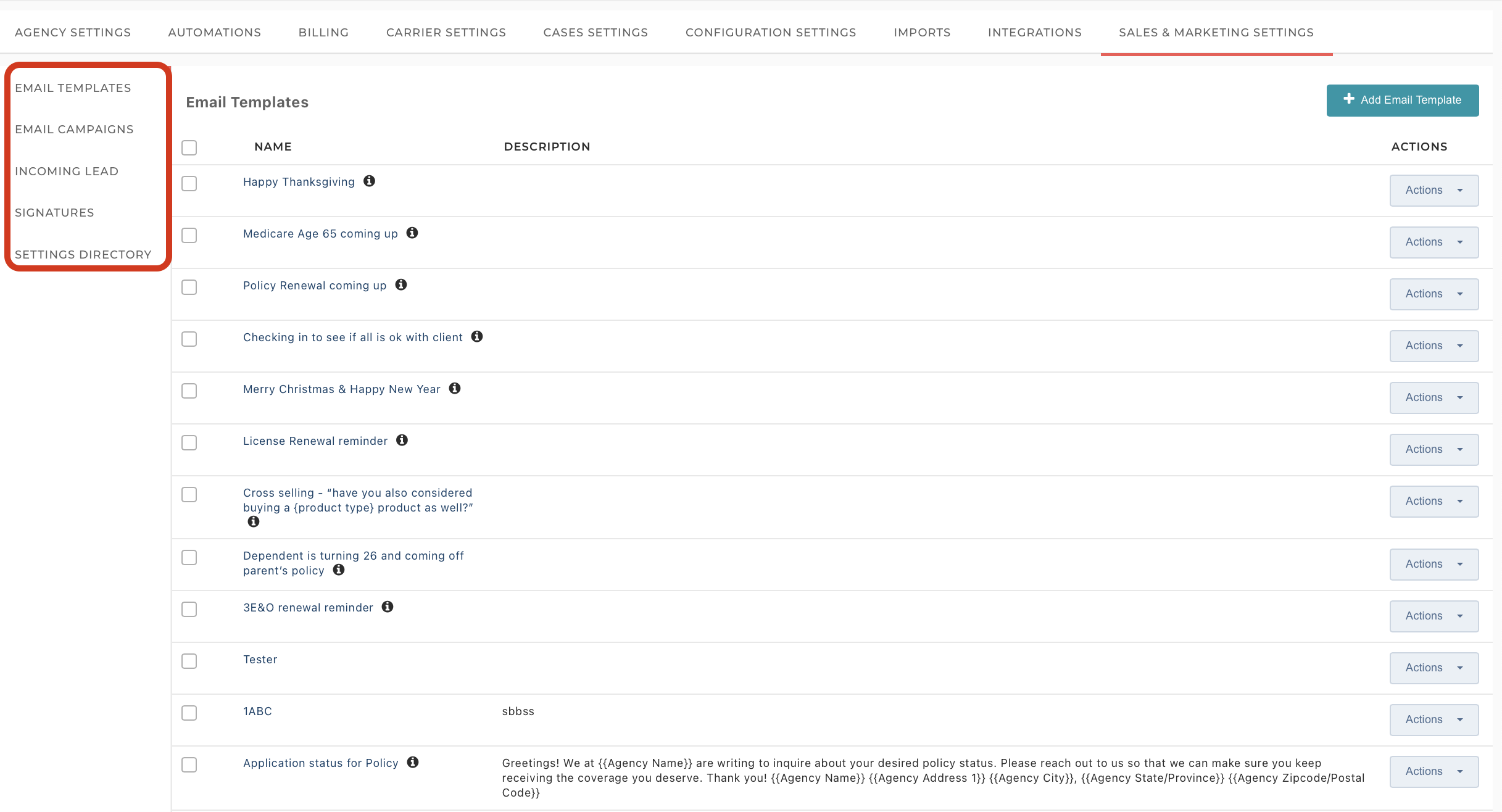 Step into the Sales and Marketing Settings, your hub for shaping the success of your sales and marketing efforts. Here, you have the power to craft compelling email templates that resonate with your audience, orchestrate dynamic email campaigns for engagement, efficiently manage incoming leads, and leave a memorable mark with personalized email signatures. These settings are the key to optimizing your sales and marketing strategies, enabling you to forge meaningful connections, nurture leads, and project a professional image in every interaction.


Email Templates: Email Templates offer a valuable time-saving feature. By creating an email template, you can streamline your communication efforts. These templates can be utilized both for individual email correspondence and seamlessly integrated into your email campaigns. This efficiency not only saves you time but also ensures consistency and professionalism in your email communications.

Email Campaigns: This section allows you to easily add and manage your email campaigns. Additionally, you can access detailed statistics related to your email campaigns directly from this page. To initiate a new email campaign, just click on 'Add Email Campaign.' This streamlined approach simplifies the process of planning, executing, and analyzing the performance of your email campaigns, enhancing your email marketing effectiveness.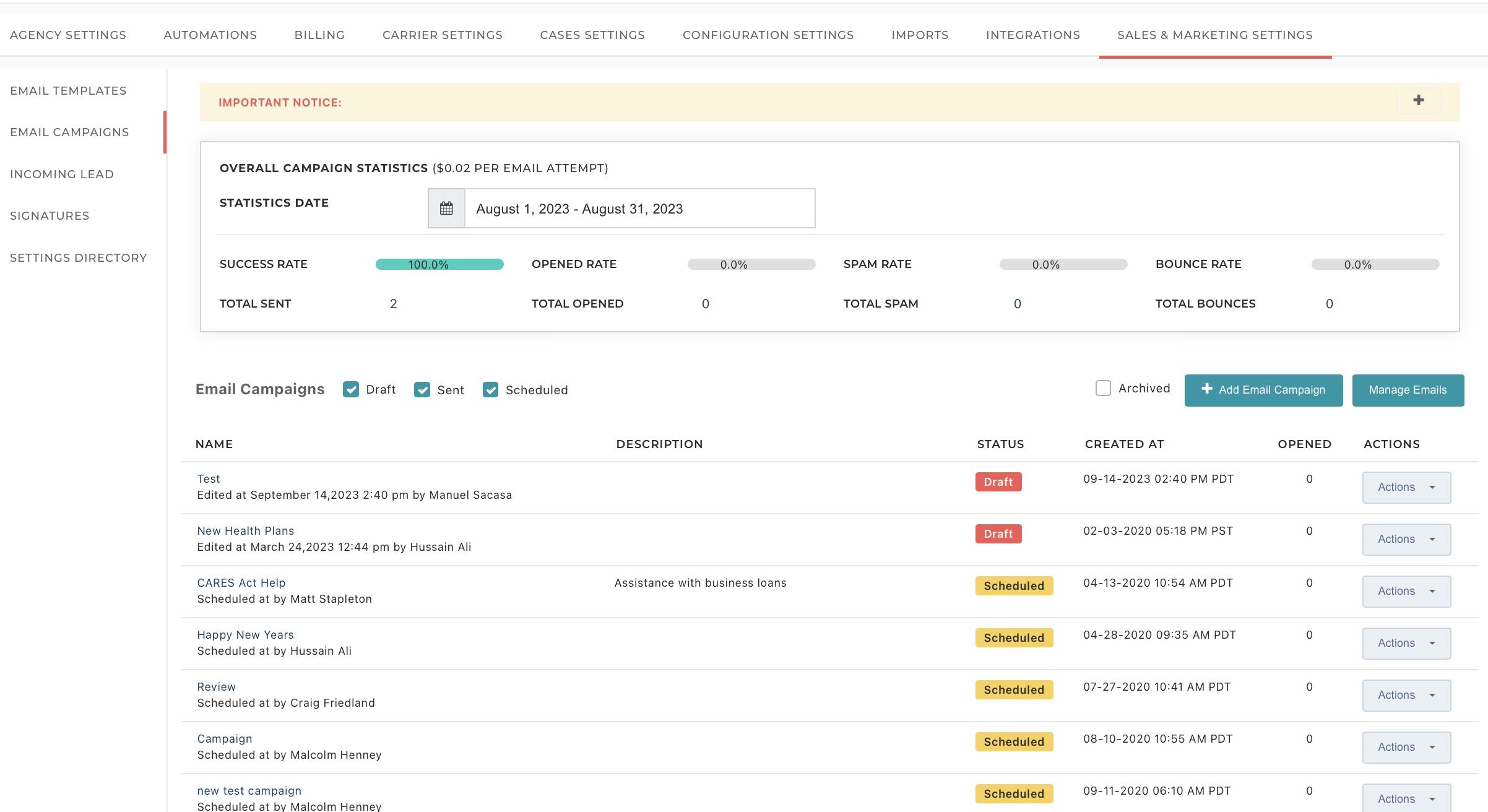 Incoming Lead: With this feature, you can effortlessly capture incoming leads originating from your website. These leads seamlessly integrate into NextAgency, and you can conveniently access them within this section. This streamlined process ensures that potential opportunities are efficiently managed and tracked, allowing you to stay responsive and capitalize on potential business prospects.

Signatures: Elevate your email communications in NextAgency by incorporating custom signatures. These personalized signatures add a professional touch to your emails, making your correspondence more polished and distinctive. Tailor your signature to reflect your identity and convey important contact information effortlessly.


If you have any questions or need further assistance, please don't hesitate to reach out to our support team. We are more than happy to help and provide any clarifications you may require.